LUT Translator
Ever been asked to deliver a Lustre or Clipster LUT when all of your various LUT building softwares just don't export it?
"Translate all your look-up-tables in all formats within one application. LUT-Translator reads and writes any 1D and 3D LUT format and keeps your LUTs organized in a document-based database. Any LUTs can be easily combined. Write as many duplicates in different formats as needed from any LUT with one easy step."
LUT Translator by digital colorist, Florian Martin, now available on the Mac App Store for 299 USD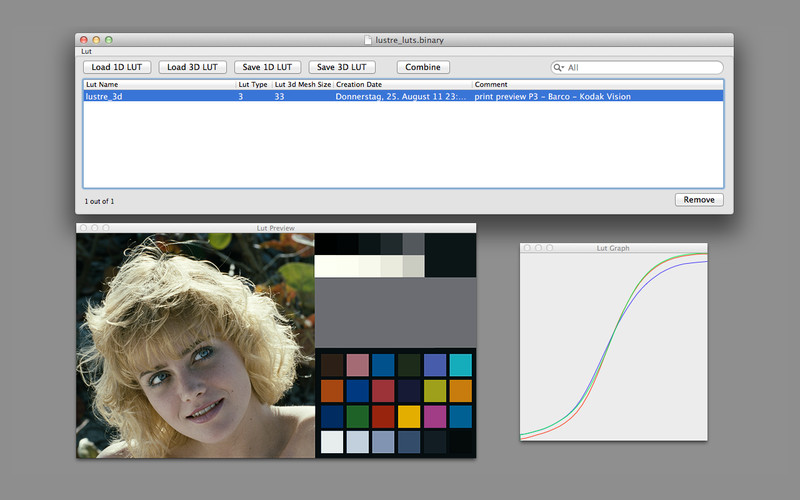 I haven't dug super deep into this yet but did some initial testing from Lustre to .cube, a few other formats, and back again. It seems to work great. Spot on translation from mesh to mesh.
Here are the formats currently supported:
1D:
Lustre
Cube1d
Nucoda
Fugo
Shake
Cinetal
Codex
Sonysrw
Fusion_16bit
Arriscan
3D:
Lustre
Float3d_32
OSD3d
Cube3d
Cinetal
Clipster
Codex
Fusion
Baselightcube
Color Pandora
Nucoda
Luther
DaVinci
Luttemplate_3d
There are quite a few formats missing from this list but I'm assuming more will be added over time. You can go back and forth between any of these, combine meshes, and translate 1D to 3D and vice versa (taking into account the limitations of 1D LUT's of course). I'd say LUT Translator is a powerful and aggressively priced utility for color management.
via Chris MacKarell at Arri CSC - Secaucus, NJ